WET BARS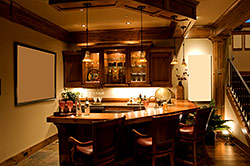 Most of our clients ask our recommendations on dry bar and wet bar installation. A dry bar is simply kitchen-island-looking furniture where snacks and drinks are served. A wet bar is better because it has a sink and plumbing, eliminating the need to run from and to the kitchen just to prepare drinks and wash utensils. Therefore, it just makes sense to have wet bars instead of the dry one. With Distinctive Total Home, having one will not only make sense but will be the best choice you'll make.
Wet Bar is the Better Option
Dry bar is not bad at all. It's just not good enough. Think about it. A bar is used to serve drinks. How can that be possible without a sink? That's why wet bars are better. They have all the goodness of dry bars, but with an added special feature. Sure, they're costlier. But they're actually cheaper and better in the long run. Think about the possible accidents and discomforts because of the needed trips with a traditional bar.
And since convenient, a wet bar adds better value to your property. It is a good feature to be added to your home. It's useful for sole relaxation or having a fun time with your special guests. Plus, a good-looking bar makes your home high class.
Important Features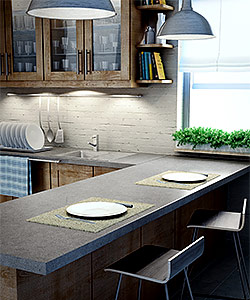 Of course, wet bars need more than just a sink and plumbing. They also need cabinets where to keep utensils, drinks, and snacks. There must be an elegant wine rack, too. Better yet, have a lovely wine glass holder near the cabinet. Make sure you'll have different types of glasses for different drinks.
Appliances, like refrigerator, freezer, and chiller may not be necessary, but they're nice additions to keep drinks cold and handy. Necessary tools include strainers, jiggers, hand juicers, muddlers, stirring rods, and wooden mallets.
If you'll be having a wet bar, expect to stack it up with your favorite drinks – red wine, perhaps. Also consider whiskey, vodka, rum, tequila, vermouth, countreau, campara, cognac, and chartreuse. Not everyone's into alcohol drinking, though. So also keep in handy some club sodas, fresh lemons, syrup, sugar, and tonic.
Imagine how you will use the bar, have fun with it, and entertain guests with it. There must be more must-have features in the bar after you've decided what to do.
Where to Install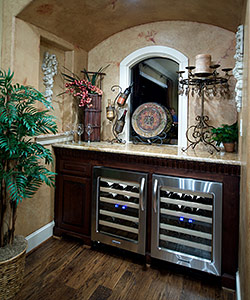 Some of our clients in New York prefer their wet bars installed in the basement. That's a good choice for an exclusive party. But if you want them to be more welcoming, then have them in the living room or in the dining area. They can even have their very own room or be a part of the entertainment area. It's even possible to have these outdoors, if you want that outdoor bar appeal.
Besides features and purposes, there will also be an issue about the design. Again, it is not something you should worry about, especially with Distinctive Total Home. We have creative designers who can come up with the perfect design for you. Plus, we have our own team of craftsmen who can bring that design to life.
We've already graced many homes and commercial establishments with wet bars. See our Gallery and that's not all we can do. We are a full-pledged home improvement company that is passionate and professional about improving our clients' lifestyles.
Contact us
anytime for more information.
Serving All Of Long Island.