CUSTOM LANDSCAPE DESIGN
WATERFALLS
How relaxing would it feel to see a beautiful waterfall amidst a forest with lush greens and admirable rock formations? Although not everyone can have this kind of experience, Distinctive Total Home can give you something close enough: landscape waterfalls. A well-designed landscape transforms your property into a little paradise in the middle of the city especially if it is built with water features. Let us build you a naturally refreshing feature right in your own backyard.
Waterfalls: Benefits and Advantages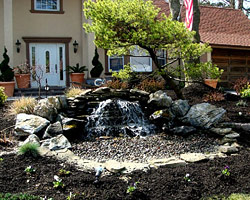 Aside from naturally relaxing effects of waterfalls and the splendor that these water features bring to your landscape, there are other benefits that you could get from them.
One great advantage of having a waterfall is that it allows water to move and flow. This eliminates the possibility of breeding mosquitoes and, instead, serves as an inviting place for birds to drink and stay in the area. The flowing water can also provide the needed oxygen to your fish and plants in the pond and prevent the growth of algae. Waterfalls and cascades with pumps also help filter the water of fish waste and keep the water clean and clear.
The sound of flowing water can also mask the noise, especially if your home is in the busy cities of New York. Lastly, this structure instantly increases the value of your home and your property as a whole.
Building Various Types of Waterfalls
As a focal point within your landscape, waterfalls should be built with durable materials and excellent craftsmanship. However, before we can build one for you, it is important to decide on what type of waterfall you want to have.
Here are some of the most common types that you can choose from: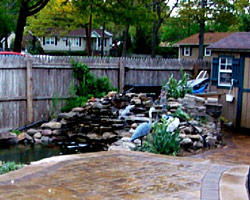 In-ground

- This type is designed to have water flow onto layers of rock formations. It provides a very interesting focal point to any outdoor space because it replicates a natural waterfall.



Wall-mounted

- This is an ideal concept for landscapes with limited space. Water is made to flow down on a textured wall to provide variety on the water's movement.



Pondless Waterfalls

- This is a waterfall that lets water flow down into a bed or rocks, instead of a pond. Underneath the rocks is a drain where water is recycled back up to the top of the waterfall to flow down again. This gives an interesting illusion while providing a safe and maintenance-free feature in your landscape.


Quality Waterfalls with Creative Designs
Distinctive Total Home builds waterfalls with unique designs and based on your requirements and personal style. Every stone, rock boulder, and plant used in each project is carefully selected for maximum durability and appeal. Every single element is incorporated efficiently to create harmony, thus resulting to one great waterfall structure.
If you are ready for a refreshing experience every time you step out into your backyard, call us or drop by at our Lindenhurst office. Our friendly staff will be more than glad to answer all your queries.
At Distinctive Total Home, we surely have what you need to make your outdoors visually appealing and a lot more valuable.
Serving All Of Long Island.