CUSTOM PAVING STONE & MASONRY
WALKWAYS
What's the best way to welcome your guests to your Lindenhurst home than providing them with custom walkways that will not only make each part of your landscape accessible but beautiful as well? You'll be giving them a grand time while finding their path in an intrinsically designed winding maze, or simply enjoy strolling along a garden walkway as they revel in the sight of your breathtaking, multi-colored flowers. A path may lead to your outdoor kitchen, while another may lead to your hidden pond and waterfalls.
Aside from beauty and convenience, walkways also provide safe transitions for able-bodied and handicapped persons to and from your home. Your kids can run without slipping in mud again. They're even safe for your plants, too -- you won't have to worry that someone might accidentally step into your newly planted exotic annuals.
Natural Stone and Concrete Pavers for Your Walkways
A lot of home and commercial property owners in New York favor the use of pavers over poured concrete due to easier maintenance. If and when breakage occurs, only the damaged paver needs to be replaced. On the other hand, poured concrete has to be completely removed and replaced when cracks become visible.
Distinctive Total Home recommends walkways that are made from natural stone and concrete pavers. Here are some of the reasons why: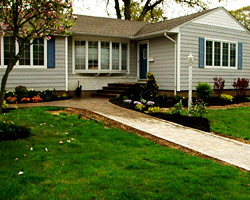 Natural Stone Pavers.
Stones are crafted by the forces of nature, deep within the earth's bowels. They are great for walkways because they can withstand frequent, heavy traffic without cracking or breaking. They come in a wide variety of shapes and colors, which you can mix and match for a spectacular effect. Some of them have rough surfaces, which make them slip proof, and, yes, cleaning up will be a breeze. You'll just need water and some mild soap. Well, of course, something this beautiful has a bit of a hefty tag price attached to it, but, considering that it may last a lifetime, or even more, it's worth it.
Concrete Pavers.
Unlike natural stones, concrete pavers are man-made. They are made of cement and gravel and colored with dyes. They are durable, long-lasting, and cheaper than natural stones. You can choose to have them designed and colored according to your needs and desires.
Our Premium Materials and Quality Installation
The secret to strong and durable walkways is a combination of top quality materials and skillful installation. Allow us to build yours, and you can be sure of perfection every step of the installation process. Here's how we do it: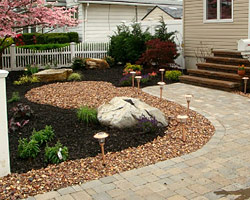 Once you've chosen the material, our highly qualified stone masons and artisans will check your soil's compactness and augment and compress it if needed. We'll let your soil stand for a couple of days to make sure that pavers will not sink over time.
Our stone masons will put a layer of sand then install the pavers, piece by piece, carefully aligning each according to the design of your choice.
We use modern equipment to compress and check that each paver is securely locked into its place.
Finally, we will apply top quality sealer to ensure that your pavers will look beautiful for a long time.
So if you want your projects to be beautiful, durable, and serve their purposes well,
call us
. We know what it takes to build walkways that can be your pride and joy for years to come.
Serving All Of Long Island.