CUSTOM PAVING STONE & MASONRY
STOOPS
Have you noticed how common it is for New York home to have stoops? But although common, having a stunning entrance with such features is very rare. They've become so boring, as if they don't add any aesthetic value to the place, and that they're just there out of necessity. Good thing you realized that your stoop doesn't have to be as boring as everybody else's. With us, we can make it even more 'distinctive.'
Why Care for Stoops?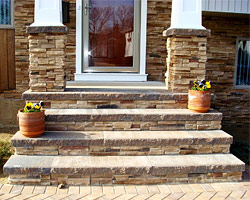 Many people don't realize it, but changing the look of your stoop is a simple, affordable, and very effective way to revamp the general appeal of your home. It's because the area is one of the most noticeable parts. Like it or not, it's where your eyes will lay on first, so as the eyes of your guests and passers-by. If you want to make a great impression on them, simply improving the stoop will do the trick.
Besides aesthetics, your stoop can add another inviting space in your home. Best of all, it won't occupy a large portion of the yard.
Fresh Stoop Ideas
There are more to stoops than just the nostalgic look of wood. Here are some fresh ideas on how to make a real, big change with your stoop:
Change material.

There are other materials that can be used for the stoop like slates, pavers, tiles, and concrete. These will add a livelier appeal and more elegant aura for your home. Slates, for example, look fabulous in every angle. Pavers look sophisticatedly rustic. Tiles are clean and colorful while concrete is so flexible.



Experiment with colors.

Why stick with brown if you can have a red, yellow, or blue stoop? Even better, why not have a multi-color stoop? This is ideal if you are not fond of flower pots or if you have no plans of adding anything there. The color combination is enough to keep interest.



Combine elements.

You don't have to stick with one material alone. In fact, it's better to combine various design elements. For example, have slates for the tread and colorful tiles for the riser. More combinations are possible and every combination will create a different effect.



Try another form and shape.

Give up the typical straight stoop and make way for a curvy or circular one. It's more interesting to walk on non-uniform steps and the curves add character to your home's front space.


Make it grand. It's time to make the entrance grand. No need to have a bigger space to do this. Instead, have a stair that widens. It's more inviting and it makes your home look bigger.
Installation by Professionals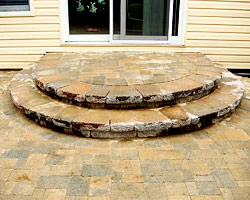 Of course, anyone can attempt to build stoops. But not everyone can build them professionally. Distinctive Total Home has creative designers from the state who know what appeals to New Yorkers. But it doesn't stop there. We also have enough in-house crew who can build your dream stoop with integrity and professionalism. Since they solely work for us, it's possible for the company to provide warranty both for the craftsmanship and the materials used. This is something rarely offered by landscaping companies.
We don't just design and build stoops. Our company is dedicated to improving homes in New York through our various services.
Contact us
for more information.
Serving All Of Long Island.