CUSTOM PAVING STONE & MASONRY
RETAINING WALLS
Distinctive Total Home offers innovative, functional, and attention-grabbing retaining walls that you will surely appreciate and love. Every wall that we built benefits from our extensive experience in designing and creating hardscapes that last.
Retaining Wall Blocks from Trusted Partners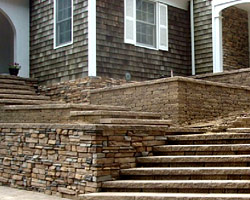 Achieving a stunning retaining wall can only be made possible by a combination of skilled workers, appropriate tools and equipment, and premium materials. We provide particular attention to the materials that we use such as retaining wall blocks since they make up majority of the retaining walls that we build.
Fortunately for us, we never lack on great quality retaining wall blocks since we have solid partnerships with three trusted materials suppliers, namely Belgard Hardscapes, Cambridge Pavers, and Capitol Pavers.
Belgard, for example, supplies us with retaining wall blocks that can be perfectly constructed to complement existing hardscapes like patios, gardens, outdoor kitchens, walkways, and many more. These materials have an interesting textured surface that reminds one of Europe's finest gardens and courtyards. If you happen to love European architecture then you'll surely love Belgard's retaining wall blocks.
Meanwhile, Cambridge has several collections of high grade retaining wall materials that you could choose from. They offer at least six different collections, namely Old English, Vyking, Pizique, MaytRx 3 and 6, and Allan. Cambridge's retaining wall products come in various shapes, colors, and sizes that can mimic some of the finest natural stones and gems like Onyx and Ruby.
Capitol Pavers, on the other hand, supplies wall blocks with caps that range from 3 inches and 6 inches in height. These wall and cap collections provide the needed curb appeal and aesthetic boost that any landscape would need. The Centurion Wall system, for example, has an aged finish that renders it a classic, time-wrought appeal that would be perfect for those with special liking for vintage structures.
The Advantage of Segmental Wall Blocks
A special kind of retaining wall blocks are segmental wall blocks. These materials offer some great advantages that no other landscaping materials can provide. These benefits include: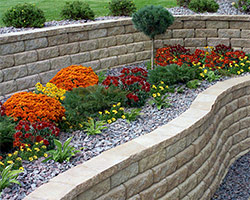 Excellent retaining power.

The beauty of segmental wall blocks is that they can hold tremendous amount of pressure from the backfill soil. This makes the area beyond the soil safer, since the likelihood of landslide is contained.



Higher and steeper walls built.

Since segmental blocks can hold back soil efficiently, they allow for higher and steeper walls to be built. This is perfect if you want to create varying wall heights for added appeal.



Excellent curb appeal and aesthetic boost.

Segmental wall blocks come in various shapes, sizes, colors, and textures, making them highly versatile building materials for retaining walls. With segmental wall blocks, you can create practically dozens of designs and add some much-needed curb appeal to your property.


Hire Us for Your Retaining Wall Needs
The good thing about all these is that you can get retaining walls built by professionals like us. As a member of the prestigious Interlocking Concrete Pavement Institute, you're guaranteed that you're working with experts who know the value of proper installation. We can create unique designs with emphasis on your specific design preferences, and use only premium materials supplied by our trusted partners.
For retaining walls that will make your New York property stand out,
contact
Distinctive Total Home today.
Serving All Of Long Island.