CUSTOM PAVING STONE & MASONRY
POOL AREAS
Pools are a heaven sent, especially during summer when the sun's heat can be very unforgiving. As it is, wading in the pool's cool water can be very refreshing and relaxing. For this reason, it's important to keep pool areas looking great and safe for your kids and guests. And our company can help you enjoy a stunning pool area that is also 100 percent safe for your family and friends.
Our Recommended Pool Are Materials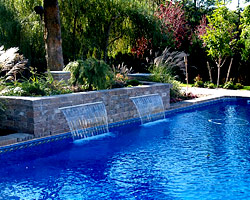 Distinctive Total Home can easily enhance the beauty of your pool area through our creative team and our skilled artisans and builders. Functional and safe pool areas are required for a truly enjoyable and relaxing experience on hot summer days and humid nights.
We do this by using only top notch materials like paving stones that are supplied by trusted partners like Belgard and Capitol Pavers. There are many advantages of using pavers in the pool areas, including:
Skid resistance

. Pool areas are consistently wet and slippery. When not addressed, it could lead to some nasty slip and fall incidents. Would you want your kid or guest to suffer such fate? Certainly not! Fortunately, pavers are proven to absorb water and to effectively prevent accidental skidding. Their surface can provide enough traction even on bare feet, hence being perfect materials for areas around the pool.



Aesthetic boost

. With dozens of available designs, it's easy to beautify the pool area using pavers. It also allows for easy customization if you happen to have a specific design in mind. When installed by professionals like us, your pool area can have a stunning look and feel that will surely elicit some oohs and ahhs from your stunned guests.



Cost savings.

Pool amenities made of pavers are easy to maintain, durable, and does not require frequent replacement. Overall, this would translate to huge savings on maintenance costs.


Other Pool Area Amenities that We Create
Aside from pool areas, we could also create other concrete amenities using pavers. These include: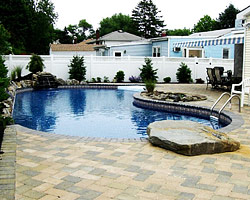 Pool decks.

Decks are structures that are built beside interesting points like pool areas, rivers and lakes, oceans, and many more. With a pool deck built beside your pool, you and your family or guests could comfortably relax on your lounge chairs.



Fire pits and fireplaces.

Fancy a fire feature? No problem! We could likewise install a fire pit or fireplace so you and your folks could just gather around the fire feature and warm yourselves up. These amenities are going to be particularly helpful during cold days and nights.



Sitting walls.

Additionally, we could also build sitting walls around the pool area so you could exchange stories and just chit-chat about anything that interests you.


Whichever of these amenities you want to have, we can surely build it for you.
Pool Area Structures Built by Experts
With us, New York clients like you can look forward to relaxing moments with family and friends. Our expert workers have built numerous stunning amenities for pool areas so you're assured of well-built amenities. And with our top quality materials, you can look forward to decades of enjoying the wonderful benefits of our creations.
Contact us
today and let us turn your pool area into a must-stay part of your property!
Serving All Of Long Island.