CUSTOM LANDSCAPE DESIGN
PONDS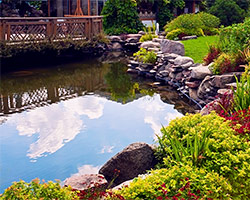 The busy streets of New York are nothing but exhausting. Why not add a relaxing escape right in your backyard, like ponds?
Building a large, natural-looking pond is possible with so many architectural designs and engineering techniques. The best thing about this water feature is that its sight and sound are so soothing you'll never think about going somewhere else just to experience a real pond. Of course, Distinctive Total Home will design and build your water feature in a way that's so stunningly real.
Is Pond Right for You?
By now, perhaps you simply want a pond but not sure if it's the right one for you or your yard. Before we start designing and digging the ground, we'll have to survey your area first so you'll have no worries about the technicalities.
We want you to realize that ponds are great. As it is, you can tame fishes and plants in a pond, plus you can enjoy the soothing sound of moving water. Since it looks natural and is a water element, a pond unsurprisingly attracts birds, butterflies, frogs, and other beautiful species. Watching them enjoy your pond as much as you do will be priceless.
Plus, the look of water in the yard will be refreshing in a hot summer day. Enjoying your day while lying down near it will surely be a therapeutic experience. After all, water is always inviting.
What Kind of Pond?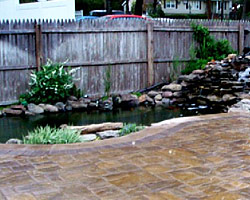 At Distinctive Total Home, we highly recommend natural ponds. These types typically have big boulders and include a long waterfall and stream of water that goes in and out of the pond.
If you want fishes, we can build you a koi pond. This is particularly a good choice if you want bright red, swimming fishes. But the pond has to be at least 3 feet in depth. A spa pond is also possible if you want to experience a Zen-temple-like cleansing bath in your yard. This has to be large enough, though.
What about a pond under a bridge or a pond close to a lounge? We can definitely do that and more. All you have to do is talk with our creative designers and open your eyes to the beautiful possibilities of owning a pond.
Experiencing Nature
If you can't go to nature, then bring nature close to you. That's the concept of having a pond in your New York property. Our team is more than competent in providing you with the most beautiful and functional pond in your landscape.
We've already designed and brought to life ponds from mere concepts. Our team offers this amazing service and more of our related landscaping services in Lindenhurst and nearby areas around the state. Besides creative designers, we are also proud to have a crew of our own. With them, we can provide guarantee on both the materials and the craftsmanship, which is rare in this business.
Feel free to
call us
for any questions, references, and estimates. We don't just create water features on your properties; we create practically a whole new and more beautiful world for you.
Serving All Of Long Island.