OUTDOOR LIVING
PIZZA OVENS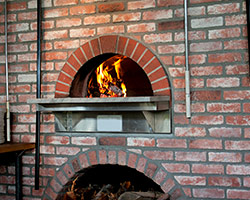 Great bonding moments with family and friends can be achieved by preparing sumptuous meals for them. And another way to please them is to make home-made pizzas. While you can order from your favorite pizza chain in New York, it is still best if you prepare them yourself. And Distinctive Total Home can help you with this. We can install pizza ovens in your home, particularly in your outdoor area.
Although there are several DIY pizza oven kits available in the market today, nothing compares to the reliable service of a professional installer like us. Our experienced builders and installers are well-trained and knowledgeable in the various aspects of pizza oven installations.
Offering Top-notch Pizza Ovens
There are hundreds of suppliers for pizza ovens, but we make sure that we only partner with the leading brands with the most reliable products. This is also our assurance to our clients that we only provide them with top-notch products that can last for years.
Here are some of the factors that you should look for in a pizza oven to make your selection a lot easier:
Appropriate size

- the oven you choose should be small or big enough, depending on how much space your outdoors can provide. How often it would be used and how many pizzas would usually be made should also be considered in order to determine if a small oven would do or if a larger one is required.



Cooking variety

- this oven can also be used for other types of food. Knowing if it will be used more than just making pizza will help you decide on the right features for your oven.



Affordability

- this is often the first thing that clients think about. It should be affordable but with quality and right features. It is also important to know the range of your budget before choosing the features you need or want in a pizza oven. Choose an oven with features that you would use most of the time.


Great Options and Choices for Pizza Ovens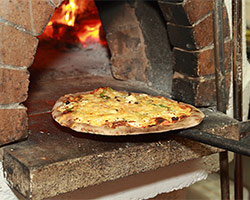 When it comes to pizza ovens, we offer a variety of designs and sizes to cater to your needs and preferences. Since most outdoor kitchens nowadays are fully equipped, electrically powered ovens are common. However, we also offer wood-burning ovens, which make use of wood for heat, as well as those that come with decks, meant to cook several pizzas at the same time.
For homes in New York, we highly recommend a pizza oven that is capable of making more than one pizza in the fastest cooking time possible to keep up with the fast-paced life in the state. With the help of our partners, we can install pre-built ovens in your outdoor living areas. And if you prefer custom-made ovens, like those made of stones or brick, we can also create them for you.
Quality Products and Services in New York
Distinctive Total Home is a company committed to making the outdoors of a home an extension for enjoyment and relaxation. If you are interested in pizza ovens, give us a
call
or visit our office and showroom at Lindenhurst, NY. We are confident that we can provide you with the right ovens and other amenities that will enhance your outdoor living experience.
Serving All Of Long Island.