CUSTOM PAVING STONE & MASONRY
PATIOS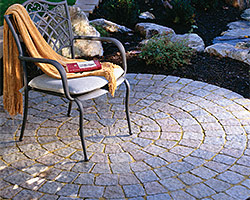 Living near the concrete jungle that is New York allows you to save time, money, and effort since you no longer have to travel far just to go to work or drive the kids to and from school. However, it has disadvantages, too. The city is overly populated with people and all kinds of transportation that living spaces are limited in size, and, yes, outdoor living, too.
So why not have a mini-paradise right outside your home by having a patio installed? The plants and flowers in patios can bring you closer to nature. You'll also have a beautiful place to relax and unwind after a long day at work, entertain friends, enjoy meals with your loved ones, or simply sunbathe to achieve that glorious tan.
Different Patios for You to Choose from
Distinctive Total Home can build you patios that will complement any type of home, be it contemporary, Mediterranean, Colonial, and others. We can install:
Brick patios.

Patios made of bricks are durable and strong. The material can withstand frequent traffic, heavy furniture, and even the forces of nature. Bricks do not fade and they are easy to maintain. All you need is to sweep off dust or, in rare occasions, wash it up with mild soap and water. And because bricks are installed one by one, you only have to replace the damage units.



Natural stone patios.

These outdoor living spaces are as durable and strong as their brick counterparts, albeit a little costlier. Since no two stones are alike, you'll be having unique and breathtaking outdoor living areas. They are also easy to clean and maintain.



Wood patios.

Patios made of wood look refreshing and natural, and, depending on the type of wood, they are cheaper too.



Concrete patios.

Technology has made it possible to make concrete look unique and stunning. Through processes, like stamping and staining, the gray concrete of long ago can turn into beautiful masterpieces.



Patio Pavers.

They are made from durable paving materials, so you are assured of quality and durability. These materials can mimic any type of natural stone and bricks.


Patio Enhancements
Adding a fireplace to your patio allows you to spend cold winter nights outdoors. On the other hand, a waterfall or fountain can make this outdoor living area more alive and refreshing. Put comfortable chairs and pillows, and you'll surely have a great place to relax and enjoy. We can do more. Just tell us your preferences, and we will incorporate them into our patio design.
Why Hire Us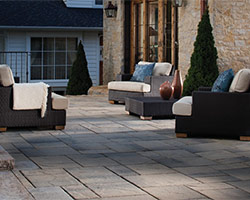 We have the best stone masons and artisans who are very knowledgeable and highly experienced in the installation of patios. We have also trained them well in using our state-of-the-art tools and equipment to ensure safety and quality.
Our natural stones and pavers are sourced from the most reputable quarries, while our other materials come from the best dealers in the country. We have a wide selection of colors, textures, and materials to choose from. No matter how big or small your project is, rest assured that we will never run out of stock.
Allow us to build patios for your property. With us, you can have that mini paradise right outside your home.
Call
us now.
Serving All Of Long Island.