OUTDOOR LIVING
OUTDOOR KITCHENS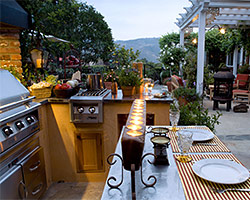 There are many possibilities on what can be put together in an outdoor kitchen. It can be as simple as an outdoor grill to more elaborate feature, such as an island unit outfitted with pizza ovens, roasters, and wine coolers. But the amenities will still depend on the preferences and needs of a homeowner. Most New York homeowners would want to have their own outdoor kitchens for cookouts, entertaining friends, and convenience, when grilling or roasting steaks, or making homemade pizza.
More Ideas and Features for Your Outdoor Kitchen
If you want more ideas on what kind of equipment or features that will best fit your outdoor kitchen, you can take a look at these:
Gas burning or charcoal grill.

This is perfect for barbecues, roasting steaks, pork and lamb chops, and kebabs. Gas burning grills are usually large stainless steel devices which have their own cover and control. Charcoal grills can do the same things that a gas-fired grill can do, but they need a cook with more experience. An open charcoal grill can also be used to cook other meals, like casseroles, soups, and more.



Open fire pit.

This would be for those who want a luau-style roasted pig or a clambake. Like the charcoal grill, there are more things that can be cooked with an open fire pit, and, depending on the design, these could be large installations.



Stone-wood-burning-pizza oven.

This is for those who want fresh tasting hot home-made pizza or bread.



Stone-top table or Kitchen Island.

A long wooden table with fixed benches can also be added. Food can be prepared on these countertops. The advantage of a marble countertop is that you can knead cake or pasta on top of it. Additionally, it is more climate proof than wooden countertops.



Sinks.

Outdoor kitchen sinks do not have the same limitations as regular kitchen sinks. You can add bigger sinks to accommodate large food preparations.


There are more features and amenities that you can add to outdoor kitchens. If you want total entertainment, you can add mini-bars, chillers, and multimedia system.
Designing Your Dream Outdoor Kitchens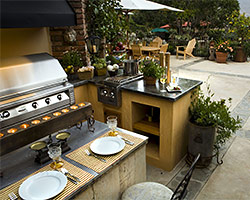 We at Distinctive Total Home understands that these are just the basic requirements of an outdoor kitchen. We can provide assistance in designing and installing outdoor kitchens that seamlessly blend into your existing landscape design. We have partners who have pre-built kitchen islands. These can be form fitted for easy and quick installation. You don't have to worry about their quality because we only source them from reputable manufacturers in the country. We have strong partnerships with Belgard and Harmony Outdoor Living. Both companies offer premium pre-built outdoor kitchens.
Our outdoor kitchens designs are great for a year-round use because we know what type of climate New York has. A roofed-type kitchen or a separate pergola type would make sure that your investment is protected from the elements even during the harsh winter season.
For any and all of your outdoor kitchen needs, give us a
call
. Distinctive Total Home can give you insights on what you might need and how we can create your dream outdoor kitchens.
Serving All Of Long Island.