OUTDOOR LIVING
OUTDOOR BARS
Have you ever enjoyed a night in one of the outdoor bars in New York? It surely is a one-of-a-kind experience…only more expensive. Why not recreate your favorite bar right in your backyard? Sure it costs money upfront. But imagine all the benefits. You will be more convinced that this project is not really about throwing money away but gaining it back.
Why Add an Outdoor Bar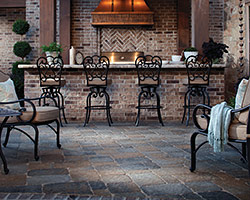 If you enjoy partying all night in an outdoor bar, then you definitely must have one in your yard. Imagine all the saved expenses. In your own bar, you can save three to four times for drinks and food without compromising all the fun. Sure, there are no strangers to hang out with. Why not invite your friends and have a private party?
With your own bar, you can have better control of the situation. Perhaps you've been in a bar that plays boring music and fun-killer rules. In your own bar, you can set no rule and just let the fun flow.
Besides all these fun benefits, outdoor bars also add value to your property. So if you sell your house in the future, expect to get back a portion what you'll spend for the project.
Bar Design
At Distinctive Total Home, we create no less than "distinctive" creations for your home. Those include uniquely beautiful outdoor bars. Just tell us the theme and the features you want, and we'll organize everything and make a plan for you. We can also help you in deciding where to install the bar, what materials to use, and what theme best fits in your yard. You can also choose among the common bar shapes — L, U, round, and straight. We have to survey your place so we can give you our best recommendation for the area.
Our company also supplies pre-built bars, although we highly recommend making a new one from scratch so you can control its looks and size. You can have an elegant wooden bar with lovely high chairs, or you can have a tiki bar with bamboo-made stools. It's even possible to have a marble-surface bar with wrought iron chairs. It's all up to your sense of style. Our team works with any theme and any material, so no worries, whether we're talking about wood or stones.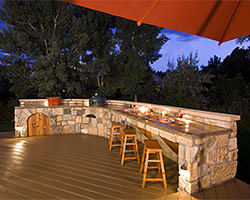 Amenities
Not only furniture, outdoor bars need to have other amenities, too. First, think of what you will serve. There must be liquor, wine, juices, mixers, coffee, and snacks. Think about how you will serve all these. That's when you'll realize you need appliances, too. Refrigerators, ovens, grills, stoves, and chillers must come in handy. Plates, glasses, spoons, forks, and more kitchen utensils must be there, too. The exact things you'll need will highly depend on your plans for the outdoor bar.
Professional Design and Installation
Distinctive Total Home has its own designers and crew for all your home improvement and landscaping needs. So don't be surprised how we can provide a lifetime warranty both on the materials and workmanship. We are 100% confident that all the outdoor bars we have built in New York will last a lifetime. Please see our Gallery for some samples of our past projects or contact us for more details on our various outdoor living improvements.
Serving All Of Long Island.