CUSTOM LANDSCAPE DESIGN
ORNAMENTAL TREES & SHRUBS
Everything in a residential or commercial landscape must be carefully planned to achieve a stunning effect: from stones to ornamental trees and shrubs. Special attention must be given to ornamental plants. A single mistake on this might only invite diseases and pests; but that doesn't mean you should dismiss the idea of having such beauties. With Distinctive Total Home, you can enjoy the perks of having decorative plants without a fuss.
Plants for Aesthetics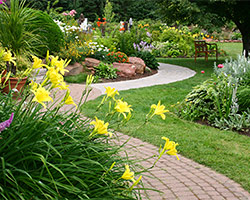 When deciding what trees and shrubs to include, our designers have to consider the plant characteristics. A slight difference on the following characteristics will be a big change to the physical look of your landscape.
Form.

This is the 3D shape of plants. What you see in one angle is different in another. Large-canopy trees, for example, may look domineering at far but when near, they actually encourage a relaxing experience because of their soothing shades.



Texture.

This defines the feel of the plant. Coarse shrubs and trees (those with large or pointy leaves) tend to visually dominate. Fine-textured plants are often used to unify the composition.



Size.

This characteristic is often used to organize the ornamental trees and shrubs. Large plants tend to make the area appear larger. They're often the taller plants, too. Smaller trees and shrubs are often grouped horizontally, usually adding a visual effect for the big plants.



Color

. We all love colors and this is the first characteristic that people often notice in a landscape. Colors also set the mood and feeling, and it's best to have a color theme for your landscape. Red, yellow, and orange are considered warm and high energy while violet, green, and blue are cool, soothing, and calming.


Deciding on plant combination can be daunting for the common person, but it's easy for experienced professionals like us at Distinctive Total Home.
Choices for New York
As much as possible, we limit our plant choice to the native species because they're more adaptive to the New York environment. Of course, it is possible to also have foreign plants. We'll make sure that what you'll be having in your yard — native or not — will never cause trouble, but only provide charm and beauty.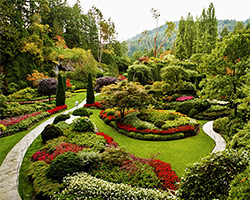 Trees

– Trees are like family treasures. They can be there for the longest time. So when choosing trees, always think long term. Varieties of maple trees grow well in the state. Birch and hackberry are good choices as well.



Shrubs

– These often work as a sort of background for the landscape. Shrubs are aesthetically pleasing by themselves, but they're often combined with flowering plants or small trees for better visual impact. Shadbush, witch hazel, New Jersey tea, winterberry, inkberry, bayberry, and summer sweet are among your great choices.


There's a longer list of ornamental trees and shrubs for your consideration. You might also want edible alternatives or add some flowering annuals and perennials. Just let us know what you want and we'll find them for you.
Ornamental and Distinctive
We hate to see your landscape look just like the others. Working with us means the difference between the common and the extraordinary. We have in-house designers and crew who can work from the design to the installation phase. Our company has already installed ornamental trees and shrubs for our clients from Lindenhurst and other parts of New York. We serve the entire state and also offer a wider set of home improvement services. Call us for any queries, references, consultation, or estimate.
Serving All Of Long Island.