CUSTOM LANDSCAPE DESIGN
LANDSCAPE DESIGN
Not all New York landscapes are created equal. One feature or another makes a landscaped property aesthetically superior and distinct than the others. And one can only say that a property is stunning if its landscape design is unique, functional, has structurally sound amenities, and designed and built by certified landscape designers and contractors. Such are the marks of the landscape designs that we create.
Not Just another Landscape Design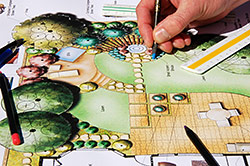 No residential or commercial property owner would want his property to be designed exactly like that of his next-door neighbors. In fact, all of our clients in the Big Apple want their properties to stand out and be easily recognizable from their neighborhood. Fortunately for them, we have the landscape design team to make such request possible.
As a member of the prestigious Interlocking Concrete Pavement Institute (ICPI), we can easily make our landscape designs unique, beautiful, and highly functional through our paver creations such as patios, outdoor fireplaces and fire pits, gazebos, and many more. With our team of skilled masons and artisans, we can realize every client's long-standing dream of having one of a kind paver hardscapes that are as functional as they are stunning.
So nothing to worry about your landscape looking like a poor copycat of your neighbor's: our landscape design is unique and based on your sense of style.
Our Landscape Design Process
As professionals doing this thing for decades already, we have come to develop a foolproof approach to landscape design. Everyone in our staff knows that to ensure a truly successful project, these steps must be followed as precisely as possible. Here's how we create unique landscapes for our clients:
Client consultation.

Before we arrive at a first design draft, we first sit down with our clients to know their design requirements. We jot down everything, so that we'd be able to incorporate their particular design requirements in our initial design plan.



Draft design.

Once we know what our clients expect, we prepare a design draft. We present the same to the client and ask for opinions. We provide revisions of the designs until the client is satisfied.



Construction phase.

Once all revisions are done and a final plan is approved, our construction team springs to action and work on the landscape build phase. Our teams, composed of landscape designers, horticulturists, and graphic artists, all work together to come up with stunning landscapes in close coordination with clients all throughout the project.


Experienced Landscape Design Company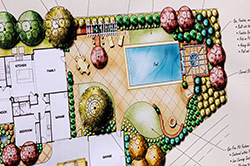 If you want a wonderfully designed landscape, all you have to do is contact Distinctive Total Home today. With skilled people following a proven landscape design and creation method, you're guaranteed to get the landscape that you've always wanted.
Aside from sheer skills, we have partnerships with trusted materials provider such as Belgard and Harmony Outdoor Living. This allows ready access to premium materials to match our clients' design requirements and our creative team's building needs. With us, you won't ever be shortchanged with the quality of materials that we'll use for your landscape design requirements.
Contact us
today or visit us at our office to know more about our value for money landscape design services.
Serving All Of Long Island.