KITCHENS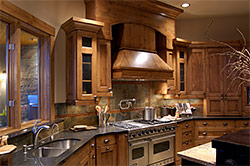 Is the sight of your crowded kitchen already annoying you? Do you feel lost and frustrated about all the clutter? If you exhausted all the available space to keep up with your growing collection of pots and pans, cups and saucers, and kitchen gadgets to make food preparation faster and easier, then maybe it's time to remodel.
Doing some kitchen improvement will create order in an otherwise unruly space. Cooking experts agree that preparing meals in hot, crowded kitchens can be very annoying and consequently affects the taste of your food.
Why is Kitchen Remodeling Necessary?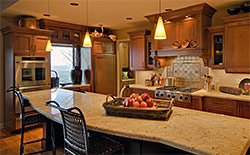 Kitchen improvement is needed by families for different reasons. A growing family needs a larger space to cook and eat meals. Families who just moved in a second-hand home may find that the kitchen of the previous owner is not to their liking, while some simply want to give their kitchens a fresh, new look.
Kitchen improvement can upgrade your storage needs, enhance the beauty of your home, and increase its value. We at Distinctive Total Home can provide you with charming designs to make the heart of your home spring back to life.
Here's what we offer:
Kitchen cabinets.

Our kitchen cabinets can make your life simpler and easier. Wood-covered cabinets are perfect for all those pots and pans, dry ingredients, and canned goods while glass–covered ones are the ideal display cases for your beautiful cups and saucers and antique cutlery.

Countertops.

We can install countertops made of marble, granite, slate or any material that you wish us to use.

Kitchen appliances.

You can choose from our wide range of appliances — from the smallest oven to the largest built-in freezer.

Backsplashes.

Our backsplashes are designed to complement the beauty of your indoor kitchens while protecting your walls from heat and moisture.

Furniture.

We have the sturdiest chairs and tables, storage bins, kitchen carts, islands, and a whole lot more.

Lighting fixtures.

Our lighting fixtures can provide your kitchen with warmth and coziness that your family and friends will find hard to resist.

Kitchen accessories.

Take a pick from our collection of faucets, sinks, napkin holders, and other kitchen accessories.
Unique Designs and Quality Results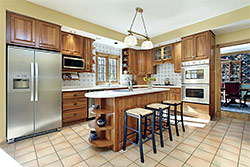 We don't believe in taking chances. We plan everything we do from assisting you in choosing the best design to selecting the best accessories. We can suggest colors, materials, and accessories to make kitchens attractive, but of course, client like you can have them customized according to your desires.
Rest assured that we use our own crew so we can guarantee not just the materials but the workmanship as well. Our materials come from the most reputable stores in the country. Our men are well-trained and highly experienced in all aspects of kitchen remodeling so you will be assured of a job perfectly done.
Why Hire Us?
We already have countless clients from Lindenhurst and other New York areas who can attest to the quality and beauty of our completed indoor kitchens. And since we're just around the corner, you can count on us to be there for any repair and maintenance if you ever need.
We know that the kitchen is the heart of the home. We'll take care of it the way you do.
Call
us now.
Serving All Of Long Island.