OUTDOOR LIVING
FIREPLACES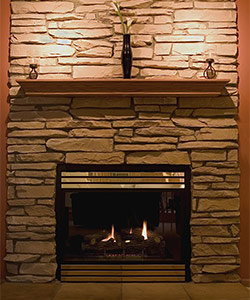 Nothing can give warmth and coziness to a room than a fireplace. Install one into your living room, and it will become a place where the family can sit huddled together during cool winter nights. Have one in a patio, and it can provide priceless moments together as family members tell their best stories of the day. More than warmth and comfort, fireplaces can also:
Enhance the beauty of a room.

The glow of fire gives a certain depth to any room, creating a mysterious, sultry effect that can entice anyone
.

Add value to your property.

If you do decide to sell your home, you can be sure that you'll get a higher price when a fireplace is installed in it.

Minimize electricity cost.

The heat emanating from a fireplace is enough, so you don't have to put the heater on thus cutting back on your electricity bill.
What We Offer
At Distinctive Total Home, we can design and build fireplaces. However, fire features made of bricks or natural stones can be very heavy literally and financially. That's why more and more homeowners settle for the pre-built ones since they also provide warmth minus the bulk. Here are the types that we commonly offer and install for our New York clients:
Gas-only fireplace.

The gas-only type is a fireplace that seemingly "burn" materials designed to look like wood. Stones or ceramics are made to look like burning wood, but the real fire comes from the burning gas. A switch is used to control it, and it does not need a chimney.

Wood-burning fireplace.

As the name implies, this one burns real wood so you need to have a vent or a chimney installed. This also needs to be ignited manually. It may be a lot more difficult to maintain than the gas-only type, but you get the real feel of a fireplace. These fireplaces need proper care and regular maintenance.
We can also provide you with beautiful customized outdoor fireplaces. We have a wide variety of designs and materials to choose from -- metal, stone, ceramics -- it's actually up to you.
Safe Fireplace Installation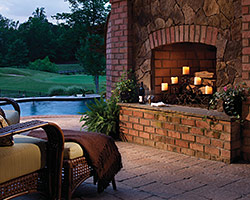 Distinctive Total Home knows that fireplaces can provide warmth and enhance the beauty of your home or outdoor area. However, we believe that these benefits should not supersede safety. This is basically the reason why we only use the best materials for all our projects.
Our very able crew has acquired years of experience in fireplace installation. We know that careful installation is required to ensure that your fireplace will last a long time. We are also aware that a minimum air space of two inches between the parts of a chimney and all wood framing is required because anything closer than that may lead to pyrolysis.
Why Hire Us
We have the backing of two of the biggest names in the industry, Belgard and Harmony, so we can supply you with everything you need. We also have accessories for fireplaces like fire screens, log holders, log baskets, and a whole lot more. And because we're just a stone's throw away from your Lindenhurst home, you can contact us for periodic maintenance and repair in case the need arises.
Call us
now and start enjoying precious moments with your loved ones as you delight in the warm glow that only a fireplace can provide.
Serving All Of Long Island.