OUTDOOR LIVING
FIRE PITS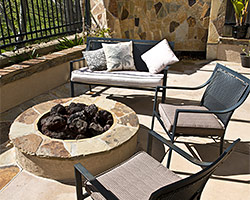 New York property owners who wish to add some outdoor amenities for their commercial or residential properties should worry no more. They could take advantage of the expert fire pits creation and installation services that our company offers.
Homeowners will surely enjoy the aesthetic and practical benefits that these fire features can give. Such outdoor amenities are guaranteed to make property owners and their friends or guests comfortably warm even when they stay extended hours outdoors during cold days and nights.
Not Your Ordinary Fire Pits
While an ordinary fire pit would do in many cases, wouldn't it be better if your fire pit also looks stunning? In fact, many of our past and present clients stress their preferences for aesthetically superior fire pits aside from the expected functionalities from such fire feature. Fortunately, we have the best partner suppliers in the industry to help us satisfy the design requirements by clients with discriminating taste.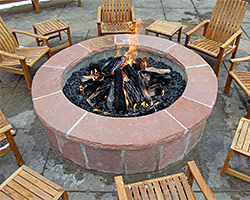 Distinctive Total Home's major partners are Belgard and Harmony Outdoor living, arguably two of the most trusted landscaping materials providers in the country. They have durable, stunning, and affordable fire feature products that are sought-after by landscape builders and contractors. They even have modular kits that can be installed in just a matter of days, not weeks!
With the strict requirements set by our clients, the products that are supplied to us directly by these two partners greatly aid us in creating the best possible fire pits for our New York clients.
Aside from their beauty, Belgard and Harmony fire pit materials allow for easy installation and setup. This lets us finish our installation projects quickly and allows our clients to immediately enjoy the benefits of the fire pits. Additionally, every fire pit that we build is bound to last for decades because of the proven quality of their products.
Stunning Customized Fire Pits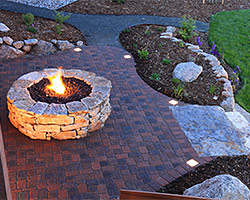 For clients who wish to have personalized fire pits, our company also offers fire feature customization. Would you want a classy granite or marble fire pit? Or perhaps, you fancy an earthy looking one made of top notch brick materials? Whichever tickles your interest, we can provide the exact look and feel that you want.
Aside from the choice of material, we can also accommodate requests for specific sizes, shapes, and the like. In the end, what we want is for your fire pit to reflect your peculiar design taste. We want you to "own" your fire pit and be extremely proud of its sheer beauty, functionality, and durability.
Our Promise
Modular or customized, we guarantee our clients that the fire pits that we will create for them are not only beautiful, but more importantly, fully functional and made to last. Our fire feature creations are all built with safety features, so you won't have to worry about injuries or fire. And with our in-house creative team, the fire pit's design also easily complements your outdoor area or theme.
We also have years of hands-on experience creating and installing fire features for numerous clients in the state.
Contact us
today to know more about our fire pit installation services.
Serving All Of Long Island.