CUSTOM CABINETRY
ENTERTAINMENT CENTERS
New York property owners who want to spice up their interior's look can avail of the exquisite and functional entertainment centers that we at Distinctive Total Home design and create. These pieces of indoor cabinetry are guaranteed to make any home an inviting place for some much-needed rest and recreation. Best of all, they are competitively priced so you can have the entertainment center that you need without hurting your pockets.
Why the Need for Entertainment Centers?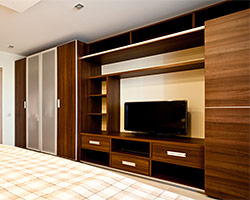 Entertainment centers refer to custom made cabinets for multimedia, gadgets and other appliances. It could house TV sets, multimedia players, game consoles, CD racks, sound systems, AM/FM radio, satellite/cable TV receiver, and the like. These amenities are considered a fixture in many American homes and are usually found in the living room or inside a dedicated entertainment area in the home.
While some property owners don't see the need for entertainment centers, arguing that it's just extravagance, a great majority of American homeowners think otherwise. For them, such add-ons are not useless whims but are essential parts of any property. But what exactly are the benefits that one can get from them? Here's a short list:
Organization.

Imagine having separate cabinets for your TV, component system, gaming consoles, and all your other entertainment essentials. It won't only make your home look cramped up, but it would also cost you quite a serious amount of money. Entertainment centers will help you keep your media and gadgets pleasantly organized. That way, guests who come over will be surely delighted to see your neat entertainment area.



Ease of access.

Along with organizing your entertainment essentials, an entertainment center will also let you operate your desired electronic gadget without a fuss. In fact, with dedicated remote controls, you can operate each one of your gadgets without even leaving your couch! Now, that would definitely make for a relaxing experience, right?



Aesthetic lift.

As in many property upgrades, it's not enough that you enjoy full practical benefits; it's also utterly important to enjoy aesthetic boost. That's why we always ensure that our designs are enough to turn any rest and recreation room into an eye candy for visitors and house occupants.


Our Entertainment Centers: Must-haves for Your Property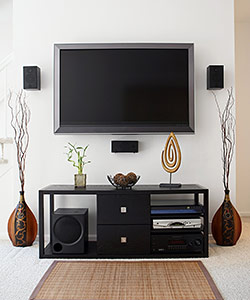 While entertainment centers are normally associated with homes, we can also create ones for business establishments like bars, restaurants, and the like. Whichever the intended applications may be, clients can nevertheless expect nothing less than perfection from Distinctive Total Home.
With our team of skilled carpenters and designers, we can provide unique designs or create a themed entertainment center to satisfy your mood. Our customized creations are guaranteed first-rate ones since we use only premium materials and send our finest craftsmen to work their magic on your entertainment center. With us, your entertainment room is guaranteed to create strong bond among your family members or provide total entertainment to your clients and guests.
To know more about the premium entertainment centers that we create, contact us today or drop by our office at Lindenhurst to talk to us. We'll be more than happy to discuss your design requirements and create the best entertainment center you could possibly have. Call us today for more details.
Serving All Of Long Island.