CUSTOM PAVING STONE & MASONRY
DRIVEWAYS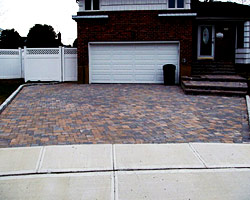 Many property owners do not fully realize the need to invest thousands of dollars in their driveways. For them, there's no pressing need to improve their driveway's look since it would only see vehicle traffic. Here at Distinctive Total Home, we beg to disagree.
As it is, one of the easiest ways to improve the general aesthetics of any residential property or business establishment is by creating a stunning driveway using top quality materials. When handled by our skilled artisans and masons, any driveway is sure to become a focal point of any property.
Driveway Designs
Creating stunning driveways always begins with the design plan. And here at Distinctive Total Home, we put premium on driveway designs that would ensure a pleasant arrival and departure experience in and out of a property.
We normally base our designs on what our clients expect. By listing down all their design preferences, we are able to determine if they want a paver driveway, an asphalt one, or a driveway made of stamped concrete. We also know if they want trees and plants to line the entire length of the driveway, or if a driveway fountain should be installed for a grandiose appeal.
But whichever design our clients eventually choose, it's guaranteed to be translated into a stunning piece of hardscape.
Paver Driveways
Among our most recommended driveway types are paver driveways. With our trusted partner suppliers Belgard, Capitol, and Cambridge, we are able to create a durable and functional paver driveway that is not a slacker when it comes to the looks department.
The beauty of using paver in any driveway is widely known among landscape contractors, builders, and property owners. Specifically, these are the perks of using paver for driveways: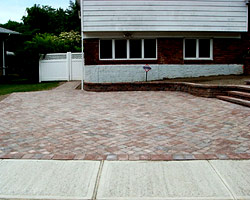 Safety.

Pavers are known to be skid-resistant, especially brick pavers. As such, they make for excellent driveway surface since the wheels would not skid even during heavy downpour.



Quick installation.

Property owners who wish to have a fully functional driveway in no time should choose paver over the other available materials. This is because pavers are easily installed and typically requires only days to layout and install.



Flexibility.

With concrete driveways, there is a huge tendency for the surface to get cracked over time. Whereas, pavers are known to conform to soil movement and to stand extreme weight and pressure, hence making for excellent driveway material.



Easy repair.

If in case a piece of paver gets damaged or cracked, you won't have to worry a thing since it can be easily replaced with a new one, something that you can't do with concrete driveway.


Driveway Installation
Our team of skilled masons and driveway builders are trained to work on all sizes and lengths of driveways. Using appropriate tools and equipment, they can create a stunning and durable driveway that is guaranteed to provide you years of service.
We also allow for customization for clients with special design requests. You can simply tell our creative team your preferred material, color, length or width, and other features you want included. With our partner suppliers, we're sure to achieve the exact look that you want for your driveway. Call us today for more details on our driveway creation services.
Serving All Of Long Island.