CUSTOM CABINETRY
CUSTOM VANITIES
Most New York home owners can't avoid the clutter in their homes with all the gadgets and accessories brought about by technology. That's why people keep on buying different types of vanities to make their homes neater and organized. However, store-bought cabinets and vanities also tend to make the home look more crowded due to space wastage. If this is your case, then you should have custom vanities installed for you.
The Advantages of Customized Vanities
Custom vanities offer unlimited options and benefits like: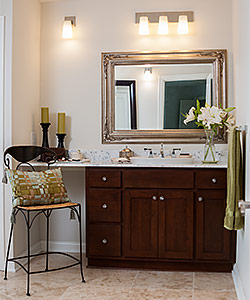 Give your home a neat, polished look.

Custom vanities come with modular boxes that you can use to store or display your books, souvenirs, trophies, and other of your precious stuff sans the clutter.

Create a unified look.

Since they are customized, these cabinets can blend well with the existing theme of a room. You can choose from a wide variety of colors and styles that you deem fit for your room.

Make use of every available space.

With custom vanities, no corner is left untouched, so they can fit even in the oddest-shaped area of your home.

Add value to your home.

Homes with customized vanities are priced higher than those without. In fact, some home buyers specify the addition of these cabinets before they move in.
Kinds of Custom Vanities
There are different kinds of custom vanities for the different areas in your home, such as:
Entertainment center.

Now you can have all your audio-visual appliances and gadgets in one beautiful piece. These multipurpose vanities can accommodate your plasma TV, sound system and your precious collection of CDs and DVDs.

Kitchen Vanities.

Your kitchen will definitely look spic and span with these cabinets. You can choose from huge kitchen islands to floor-to-ceiling shelves. Now, you'll have a specific area for your blender, coffee maker and other kitchen gadgets and ingredients. This makes cooking a lot simpler and faster.

Bathroom Vanities.

Your bathroom is the most intimate part of your home. Make that intimacy worthwhile with beautiful but functional drawers, sinks, towel holders, etc.

Bedroom Vanities.

Make your bedrooms more organized with these cabinets. You can opt for separate boxes for socks, another for ties, underwear, etc.

Laundry room vanities.

Washing clothes will never be a chore again! You'll never feel daunted with this task again if all your laundry items are stored in one convenient place.
Best Materials for Your Vanities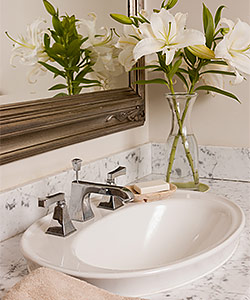 We at Distinctive Total Home create custom vanities from the best materials, like solid wood, wood veneers, banded wood, etc. All you need to do is choose from our wide array of materials, edgings, cabinet box designs, and sizes, and our very able craftsmen and artisans will build them for you. We can also suggest one that will be suitable for your area's needs.
We can do Western-style module vanities, country style, or whatever theme you can think of. We combine beauty, functionality, and durability in each of our projects.
Our Commitment to You
We don't make empty promises. We deliver top-quality custom vanities according to what we agreed upon -- no excuses, no alibis. With us, what you choose is what you get, with no exceptions.
Contact us
now.
Serving All Of Long Island.