CUSTOM CABINETRY
CUSTOM KITCHENS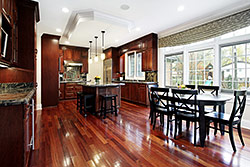 The kitchen is the part of a home that requires tremendous planning and design. Aside from being the place where meals are being prepared, it is also where families get the opportunity to bond and share experiences at the end of the day.
Let us help you build a carefully designed and installed kitchen for your New York home. At Distinctive Total Home, we do not only provide kitchen remodeling services, we can also customize your kitchen with specially designed and conceptualized layouts and amenities that would work for you.
Why Custom Kitchens Come Highly Recommended
Although pre-built kitchens are very convenient since you don't have to invest time and effort just to build them or think about their design, there are several advantages that make a custom kitchen highly recommended and much more preferred by homeowners. Here are some of them:
Designed with personal style and preference

- With pre-built kitchens, there are always some features that may not suit your taste and preferences. With a custom kitchen, every single detail can be built or installed based on how you want it. This way, the kitchen works according to your style of cooking and the needs of your family, both individually and as a whole.



Unique craftsmanship

- Because everything is customized, each detail will be created uniquely with extraordinary craftsmanship. You will be rest assured that your kitchen features such as cabinets, countertops, and kitchen islands will exude a one-of-a-kind flair that you won't find in any other kitchen. We build kitchens that represent your own sense of style and function.



Top quality amenities

- A custom kitchen involves choosing the best amenities that would support and complement your cooking lifestyle. It is our job to provide you with options for selecting the features that would go into your kitchen. From the basic features all the way to the luxurious and innovative amenities, we have them all for you.


Custom Kitchen Design Ideas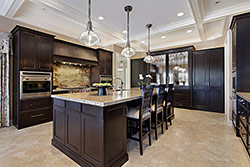 There are various types of kitchen designs that would fit your lifestyle and personal needs. If you are into intricate designs particularly on wood-stained kitchen features, then a traditional kitchen design is a great option for you. If you are into the rustic coziness of wicker and plaid prints, a country-theme will definitely inspire you to prepare meals with gusto.
One of the popular trends in kitchen designs is the modern contemporary type which features innovative and minimalist features. This is an ideal design for a custom kitchen that looks clutter-free and almost uninterrupted.
Experienced Designers and Builders of Custom Kitchens
We are proud to say that we have countless satisfied customers who can testify to the quality of our work. Our process, from initial sketches to the final touches, allows us to collaborate with our clients' ideas. You can also take advantage of our knowledge and years of experience in designing and building custom kitchens for our New York clients.
We believe that every successful project begins with a comprehensive discussion with our clients, so come visit us at our Lindenhurst office. You may also reach us through phone during our convenient business hours.
More than designing and building a custom kitchen, we build dreams and opportunities for special moments for you and your family.
Serving All Of Long Island.