BATHROOMS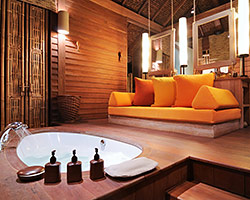 Imagine a beautiful bathroom where you can relax and pamper yourself in style. You can have it right inside your home through our help here at Distinctive Total Home.
We can remodel your bathroom by adding new accessories or by changing its existing looks. We can add vanity mirrors, more cabinets, Jacuzzi, hot tubs, and showers to make this area look stunning and relaxing. Moreover, we can also work on any kind of project from small spaced bathrooms to luxury types.
Bathroom Remodeling Services
Our commitment to creating stunning and functional bathrooms for all homes across New York is not just for new construction projects. We also offer services to remodel and renovate those that were poorly built or damaged, as well as those that need some upgrading. We can make small baths larger by creating an extension to another room. We offer products and ideas to make these areas a lot more relaxing depending on your preferences.
Our company can also add certain amenities that would cater to your needs. Additionally, we can make changes to an existing area to make it a lot more appealing and functional. These include electric and plumbing upgrades.
Factors to Consider when Building or Remodeling Bathrooms
Building or upgrading your bathroom may seem simple but it needs careful planning to achieve amazing results. Distinctive Total Home will assist you throughout the entire process to help you choose the various elements needed to create stunning bathrooms for your home. Here are some of the specific tasks that we provide in our bathroom remodeling and upgrading services: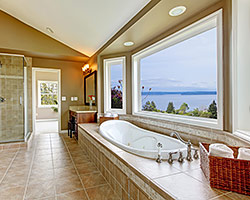 Layout and Design

- The great thing about building a new bath is that you can basically have any type of layout and design as long as it complements your needs and the theme of the rest of the house. With remodeling, it would be cost-effective to design around the existing plumbing and electrical systems.



Materials

- We only make use of the finest materials when it comes to building or renovating bathrooms. We have partnered with reliable sources for tiles, bathroom fixtures and accessories, hot tubs, and other bathroom features to provide you with a wide variety of colors and designs to choose from.



Budget

- We handle projects with utmost dedication no matter how small or large it is. We also work based on your financial capability and suggest ideas or materials that will suit your budget. But we make sure that the quality and aesthetics are not compromised.


Distinctive Total Homes' Team of Experts
Distinctive Total Home only sends the best people to handle the installation or remodeling of your bathrooms. We have hardworking masons, skilled carpenters, well-trained plumbers, and highly creative designers, all ready to take on your project with utmost enthusiasm.
Do you think it's time for a bathroom renovation or construction? Distinctive Total Home is just a phone call away.
If you need to see some completed projects, come visit our office in Lindenhurst, New York and we will provide some samples of our finished bathroom projects. You deserve a bathroom that exudes beauty and functionality. Let us help you achieve it.
Serving All Of Long Island.